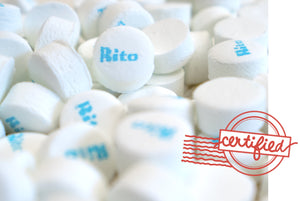 Rito Mints received the certification FOOD SAFETY SYSTEM CERTIFICATION 22000 (FSSC 22000)!
What does it mean?
---
We would like to welcome you to the new Rito Mints, as time moves forward so must we. Technology has not only affected the digital world it has provided so many opportunities for change in the manufacturing of food products. 
---
Rito Mints are back!
We are happy to tell you that here at Rito Mints, we've rapidly adapted our operations and procedures to follow the strict directives issued by the government and now our factory is running at full capacity!
---
The company Rito Mints is aiming for its famous Peppermints (including the pink ones!) to be back on store shelves and available for sales in December!
---
On Thursday, September 26
th
 

the award ceremony for
the 2019 Mauricie Star Exporters Awards presented by Carrefour Quebec International
 

took place. This prize recognizes the successes of exporters in our 
region.